Shore Based Self Catering Accommodation on the Norfolk Broads
Our luxury self catering waterside accommodation is perfect for couples, families or large groups of up to twenty people, in three types of very individual, modern, self catering holiday accommodation.
All of the properties are centrally located around our bustling riverside boatyard, and are in an ideal position for fishing (please note: the fishing season is closed between the 16th March and the 16th June), boating or exploring The Broads National Park by bicycle or on foot.

All properties have WiFi, so you can keep right up to date with your social media or pick up your emails while you're away. If you fancy giving those at home a quick wave, we have a live webcam covering the boatyard!
If you are unsure of the best property to suit your requirements, please contact our friendly booking staff who will be happy to help you.
VISITORS PLEASE BE AWARE THAT DURING THE WINTER MONTHS THE ACCESS ROAD TO OUR YARD CAN FLOOD AND IT IS ADVISABLE TO BRING WELLY BOOTS WITH YOU!
Please be aware that all single sex parties and mixed parties aged 25 and under will be asked to pay a £200 security deposit per house on arrival. This can be paid by credit/debit card or cash (no cheques).
Daisy Broad Lodges get their name from resting on the edge of Daisy Broad just off the main River Bure. Situated in the bustling village of Wroxham, adjacent to our working boatyard, they offer a perfect retreat in the heart of the Norfolk Broads.
Wroxham is often refered to as the 'Gateway to the Broads', with the famous village store ROY'S (said to be the largest village store in the world), various cafes, restaurants and independent shops it offers a perfect base for a Norfolk Broads self catering holiday.
COOT, GREBE & HERON are tucked away looking out over the ever changing Daisy Broad and the bustling river activities, while MALLARD is situated over looking the busy river Bure, with its lawned garden this is ideal for fishing(Please note: the fishing season closes from the 16th March to 16th June) or simply relaxing.
These four individual Broadland Lodges offer comfortable self catering accommodation, fitted out to the highest standards. Each property can sleep up to ten people, but GREBE & COOT can be connected via an adjoining door to provide accommodation for up to 20 people.
The lodges are designed in an' upside-down' style and enjoy a large open plan first floor sitting room with sofa bed if required, together with a kitchen and dining area. This leads to a furnished balcony where guests can relax in style and enjoy the sights and sounds of the river.
Each property enjoys the added bonus of a FREE DAY BOAT (except from 16th July- 02 Sept, during this time you will receive a 10% discount of the hire terms of a day boat) Please note all day boats can only carry a maximum of 8 people.
For further details please contact a member of our reception team on 01603 782625.
Read what our recent guests had to say about Daisy Broad Lodges :
The Keatley Family, September 2011 - Very relaxing, location was excellent with good views. Having the day boat was superb.
The Smyth & O'Neill Families, South Africa December 2011 - Enjoyed a really relaxing Christmas week in Coot. Very cosy and ideal for a big family. Lovely area and so much to explore. Thank you.
Holmes & Moody Party, April 2011 - Very nice lodge, well equipped and cosy. Enjoyed using the boat to explore the Broads. Had a lovely break.
Lucys' Hen Party, May 2012 - what an amazing weekend. We have had a great time and the boat just made it extra special. Would definitely come back again. LOVE IT !!!!!
Built to a nautical theme and equipped to the highest standard the Boat House offers three modern, open plan self catering riverside properties. Rivers View, Rivers Edge & Waterside
Rivers Edge & River View can sleep up to four people and Waterside can sleep up to eight. Each property boasts each bedroom having its own en-suite facilities and their own private access out onto the lower sun-deck.
Designed in an' upside down' style, the open plan living area is on the first floor, with patio doors leading to a furnished glass-sided balcony, providing lovely views out over the water. Perfect for relaxing and soaking up the atmosphere.
All of visitors to the Boat House enjoy a FREE DAY BOAT during their stay (except from 16th July- 2nd Sept, when during this period we offer a 10% discount of the normal hire terms) Please note all day boats can only carry a maximum of 8 people.
For further details on these properties please contact a member of our reception team on 01603 782625.
Read what our recent guests had to say about The Boathouse :
Blyth Family, September 2011 - Have had another lovely relaxing holiday in Wroxham, have stayed in Sail Loft twice and our first time in here – both excellent. Loved having use of the boat, plenty of amenities nearby.
Sankey Family, September 2011 - Our 19th year with Barnes Brinkcraft, stayed in both Lodges and boats, always high standard maintained and a warm welcome from Jill, Daniel, Mathew and helpful members of staff.

Bowden Family, Christmas 2011 - Our second stay here and just as good as the first visit. Home from home and very relaxing. The day boat was a bonus and was great for the boys to go fishing.
Stapleton Party, February 2012 - A really enjoyable 4 day stay made possible by well appointed accommodation. 'The Shed' in Wroxham is worth a visit for real ale lovers. Hope to be back.
Designed and built with comfort in mind, the Sail Loft offers a very sociable environment ideal for family holidays or large groups of friends. three of the five self catering properties have four bedrooms and two have five bedrooms and offer open plan living with their large kitchen diners.
These 'apartment style' waterside properties can sleep up to eight people comfortably with their spacious bedrooms and en-suite bathrooms. (please see each property specification for layout) This three storey development offers fantastic views from its furnished balconies of the ever changing River Bure and all its happenings and events of boats trying to navigating Wroxham bridge with its limited height clearance.
Situated within our working boatyard and named after the sail loft they have replaced, these luxury self catering holiday homes have been created with comfort in mind, with balconies and sun deck areas for relaxing and watching the river go by.
All of the Sail Loft Properties enjoy a FREE DAY BOAT (Except from the 16th July- 2nd Sept, during this time we offer all our visitors a 10% discount) Please note all day boats can only carry a maximum of 8 people.
For further details please do not hesitate to contact us on 01603 782625.
Read what our recent guests had to stay about their stay in the Sail Loft Apartments:-
The Bennett & Bell Families, February 2012 - Really great play to stay with your families. A great place to see the Broads, loved the balconies!
The Stiff Family, February 2012 - Another great holiday, laid back and relaxing as usual. Well done Barnes Brinkcraft.
Gelsthorpe & Taylor Families, October 2011 - We had a wonderful stay here, far in front of what we had expected. The dayboat was a great bonus.
The Buckley Paerty, October 2011 - An excellent time was had by all on our 7th visit here and already booked for next year.


FREE DAYBOAT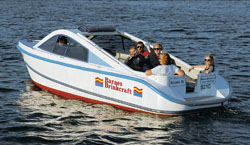 All of our holiday properties benefit from a Day Boat Free of Charge (except from 18th July - 5th Sept) these are usually moored outside by 5pm, ready for you to use on the day of your arrival. All day boats can only carry a maximum of 8 people at anytime and we advise all customers to wear the lifejackets provided.
From 18th July to 5th Sept all customers staying in our holiday properties are offered a 10% discount off the daily hire price.