New Year & Christmas holidays in the Norfolk Broads
Imagine yourself tucked up warm against the elements, watching Norfolk's wildlife float past your window.
We can't think of a better way for you to spend the festive season with your friends and family.
Fresh Air in Norfolk Broads over Christmas and New Year
You will have your day boat on hand if you choose to brave the elements. Ready to explore the River Bure. (The dayboat is included free in the cost of the holiday.)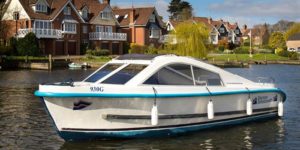 Whilst using the boat included with your cottage, we'd recommend a stop-off on the route, any excuse for a warm-up and, possibly, an opportunity to sample some local produce.
To get you in the spirit, you might stop off for a tour around Woodfords Brewery, next to the Fur and Feather Inn. (20 mins by car or about 25 mins by boat and a 20 min walk from Salhouse Broad)
Alternatively, enjoy the warmth of welcome at the Hotel Wroxham (5 to 10 mins by boat or foot) or travel a little further to the rather pretty village of Horning  (10 mins by car or 1 hour by boat). Where you will be spoilt for choice. There are three pubs, three excellent restaurants and two coffee shops.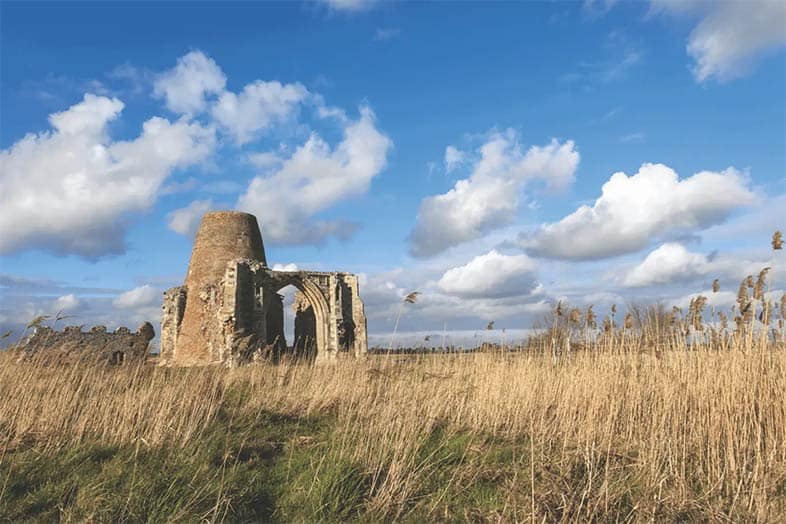 If you take a walk around St Benets Abbey. (1.5 hours by boat or 15 minutes by car) Don't forget to bring your camera. You can grab your picture of this most photographed icon of the Norfolk Broads. We can recommend the circular walking route here…
Brave people may participate in the boxing day swim at Cromer. A slightly less bracing option might involve a brisk walk further down the coast at Horsey. Check out the seal colony as it coincides with the breeding season. The seal pups at Horsey are very, very cute.
Christmas Holiday Shopping in the Norfolk Broads is within walking distance of our Holiday Homes. You will find the "Largest" village store. Roys have a vast selection of gifts, toys, clothes, food and alcohol. Rumour says they will even sell you a kitchen sink at their DIY store. A little further afield, you'll find Wroxham Barnes—a great place to find unique local gifts. You might even spot Father Christmas, too.
The Best Selection of Christmas Cottages on the Norfolk Broads

These charming and cosy cottages based in Wroxham are beautifully decorated for the festive season, complete with twinkling lights, Christmas trees, and a choice of mulled wine or bubbly as part of your welcome. Whether you prefer a traditional waterside cottage or a contemporary riverside retreat, plenty of options exist. Wake up to stunning views of the waterways, enjoy a leisurely stroll along the banks, or enjoy the relaxing waterside views from the comfort of your cottage with a cup of hot cocoa. A Christmas holiday cottage on the Norfolk Broads at Wroxham is the perfect home away from home during the holiday season.
We have 15 individual holiday homes. The largest sleeps nine people with a mix of twin and double rooms. The smallest sleep 4. All have riverside access for fishing.
Some of the apartments can be linked together (via a door between the properties), which makes it possible to sleep 16 under one roof.
Check out this selection of waterside Christmas cottages at Wroxham on the Norfolk Broads.
Wroxham makes an ideal base for a festive cottage break
Wroxham becomes genuinely magical during the festive season. With its picturesque landscapes and warm community spirit, it is the perfect destination to immerse yourself in the joy of Christmas. From enchanting shopping experiences to delightful dining options and traditional religious events, Wroxham has something for everyone.
For the younger generation, there is the unique Santa River Cruise, which departs from Wroxham. Santa's Elves will have a gift bag for all children over three years old, including a juice box, activity book & crayons, and a festive treat. Plus, all children can visit Santa in his grotto and receive a present from Santa himself!
Enjoying Christmas shows and performances in the Norfolk Broads
Immerse yourself in the festive spirit with a visit to one of the many Christmas shows and performances on offer in the Norfolk Broads and surrounding area. From pantomimes and musicals to concerts and carol services, there is something to suit every taste. Experience the magic of live theatre as you watch classic Christmas tales come to life on stage or sing along to your favourite carols at a traditional candlelit service. The Norfolk Broads is known for its vibrant arts scene, and during the Christmas season, it truly shines. So please sit back, relax, and let the talented performers entertain you with their heartwarming and enchanting performances. Our suggestions include:
The Thursford Christmas Spectacular Show
A west-end quality Christmas show hosted in rural Norfolk attracts audiences and performers from across the country. It may be a 40 to 50-minute car ride away, but we promise it will be a fantastic Christmas experience that creates lasting memories. Advanced booking is essential more details.
Christmas Family Magic at nearby Wroxham Barns
Hop on an enchanting train ride to the North Pole to meet Santa Claus himself. Get lost in a world of wonder as you journey through twinkling lights, snowy landscapes and festive cheer on your way to magical destinations, including:
– The North Pole Express – take an extraordinary journey to meet Santa himself
– Santa's Grotto – each family will get a personal experience with Santa
– The Mrs. Claus Show – an all-singing, all-dancing show on the hour, every hour
– Reindeer HQ – mix your own magical reindeer food
– The North Pole Post Office – with the help of the elves, children can write their letter to Santa
– The Elves Workshop – get crafty and make a wonderful keepsake for home
– Santa's Toy Factory – is packed with toys for all ages. Children can pick a gift of their choice.
Every family will get some special time to spend with Santa Claus, with each child given a very special gold coin to spend in Santa's Toy Factory.
Advanced booking is highly recommended; more details
Santa Special train trips in the Norfolk Broads area
The nearest of these is operated by the Bure Valley Railway, with a station on the outskirts of Wroxham. Please note the Festive Express starts at Alysham station, about a 25-minute drive from Wroxham.
A little further away, the North Norfolk Railway, a heritage railway based at Sheringham, has two festive rides, the Lights Express and their Santa Specials.
Advanced online booking is recommended.
Booking your Christmas or New Year break on the Norfolk Broads
To book your Christmas break or New Year break on the Norfolk Broads, please browse our range of holiday cottages that can be booked online. If you need more information or have a query, we will be happy to assist you in finding the perfect accommodation for your festive getaway.
A Christmas break on the Norfolk Broads is a magical experience that will leave you with cherished memories to last a lifetime. From the stunning scenery and charming holiday cottages to the festive events and activities, there is something for everyone to enjoy. So why not unwind and create lasting memories on the Norfolk Broads this Christmas? Book your break today and make this festive season one to remember.
Check availability and book your festive Norfolk Broads escape here!
Contact Us For more details please ring 01603 782625