2022 looks to be a bumper year for celebrating Easter on the Norfolk Broads
There's a lot going on in the area
The obvious choice for those staying in Norfolk is to hire a day boat. You can book your day boat online for Easter Sunday now
If you are already aboard there are quite a selection of things to do within walking distance of moorings or an easy drive from our holiday homes
my special favourites for the Easter weekend are
Day Boat Hire – Barnes Brinkcraft
Hoveton Hall Easter Treasure Hunt
Feed the Lambs at Wroxham Barns
Paddle Boarding
Bewilderwood (Kids are going to love this)
Fairhaven Woodland and Water Garden
St Benets Abbey
Museum of the Broads
Fireworks on Gt Yarmouth Pleasure Beach
Hippodrome
Day Boat Hire – Barnes Brinkcraft
Book your boat for an hour or the day and board one of these easy access boats with your family. Have a look at these routes when planning your day.
Safety instructions, maps and life jackets provided
Hoveton Hall Easter Treasure Hunt
You can wander your way around these beautiful gardens from the 15th of April. Please take in the spider garden. Don't worry, we are talking about a very impressive gate rather than a real-life arachnid. The woodland walk and Arboretum are also very beautiful.
Once you have worked up an appetite we can strongly recommend a stop at the Garden Kitchen Café for some super refreshments
The Easter Trail and Treasure Quest run from Friday 15th to Monday 18th April
Wroxham Barnes
What's more appealing this Easter than feeding the Lambs at Wroxham Barns. And, whilst you are at it, we strongly suggest that you grab a chance to look around this award-winning visitor attraction.
Wroxham Barnes is 7 mins by car or 35 mins on foot from Barnes Brinkcraft and has a range of attractions appealing to all ages. Making it a good family day out
Bewilderwood – Horning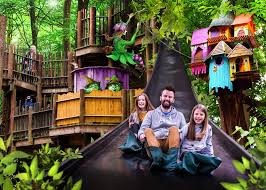 You could be enjoying a curious treehouse adventure at Bewilderwood this Easter. This spring, those pesky bunnies are up to all sorts including an obligatory Easter Egg Hunt. They are planning lots more, including face painting, a puzzling park trail and you could meet Cedric on the storytelling stage. (it does help if you bring kids under 12 along.)
Bewilderwood is 5 mins drive from Barnes Brinkcraft or a 20 min walk from the centre of Horning
Fairhaven Woodland and Water Garden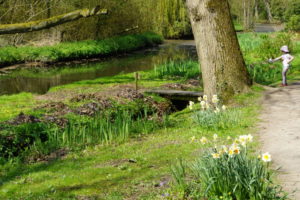 Fairhaven Woodland and Water Garden offer a top-notch Easter egg hunt. It's also worth having a look at their excellent and varied programme of events. This year they are offering an introduction to Paddle Boarding, Wildlife Photography, Warden Walks and Canoe Trails. All designed to enable you to find out more about Britain's largest protected wetland.
It takes 1/2hr to walk from the moorings on South Walsham broad to the Water Garden. For those travelling by car, there is plenty of parking on site
St Benets Abbey
Whilst there are no planned events at the Abbey over Easter, we strongly recommend a visit. it is such a striking sight. Why not plan your own Egg hunt and learn a little more about the Abbey and its history. You'll find quite a bit of information, including video and audio guides here.
You will find mooring on site. Cars can park at Ludham bridge and follow the marked footpath for 35 mins. Watch out for the wildlife, it's a lovely walk
Museum of the Broads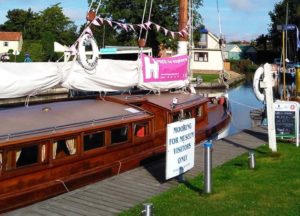 Combine a little learning with your Easter Trail at the rather lovely Museum of the Broads. It's running from the 1st -19th April Access is by car, bus or boat detailed here
FireWorks Great Yarmouth
The first fireworks of the season explode on Easter Sunday. The big bangs are due to kick off at 6.30 and 9.30 pm
Slightly older kids (and the kidults amongst us) could really enjoy the pleasure beach. Although my stomach rebels at the thought of that sky drop thingy
It's a half-hour walk from the Yacht Station to the pleasure beach.
If you are on a boating holiday remember that Gt Yarmouth is where the Norfolk and Suffolk Broads meet. Please take the advice of those working at Gt Yarmouth Yacht Station as they will help you to moor safely in a strong tidal area.
The Hippodrome Gt Yarmouth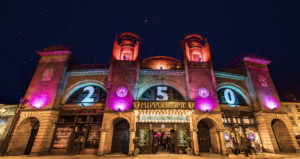 If you've had enough of all things Easter Bunny, I can highly recommend the Pirates Show at Great Yarmouth  Hippodrome. Kids will love it, and you will be amazed at the incredible art deco auditorium.
Whilst we've highlighted Easter activities. All the attractions listed run events or activities during the holiday season, so they are well worth having a look at if you are not on the broads at any  time of year
If you have any suggestions about what's on on the Norfolk Broads this Easter, please do let us know
We hope to see you soon