The first night aboard during your boating holiday can often fly by, and it's time to moor up before you know it. Planning where to moor on the Broads ahead of time can save a lot of last minute stress.
Depending on the time of year, there may not be many daylight hours left after collection of your boat. This makes mooring close to the yard a favoured choice. (This can also be useful for the last night of your trip ready for handing back in the morning).
Here are a few mooring suggestions for your first night aboard within an hour and a half's cruising.
Coltishall – 1½ hours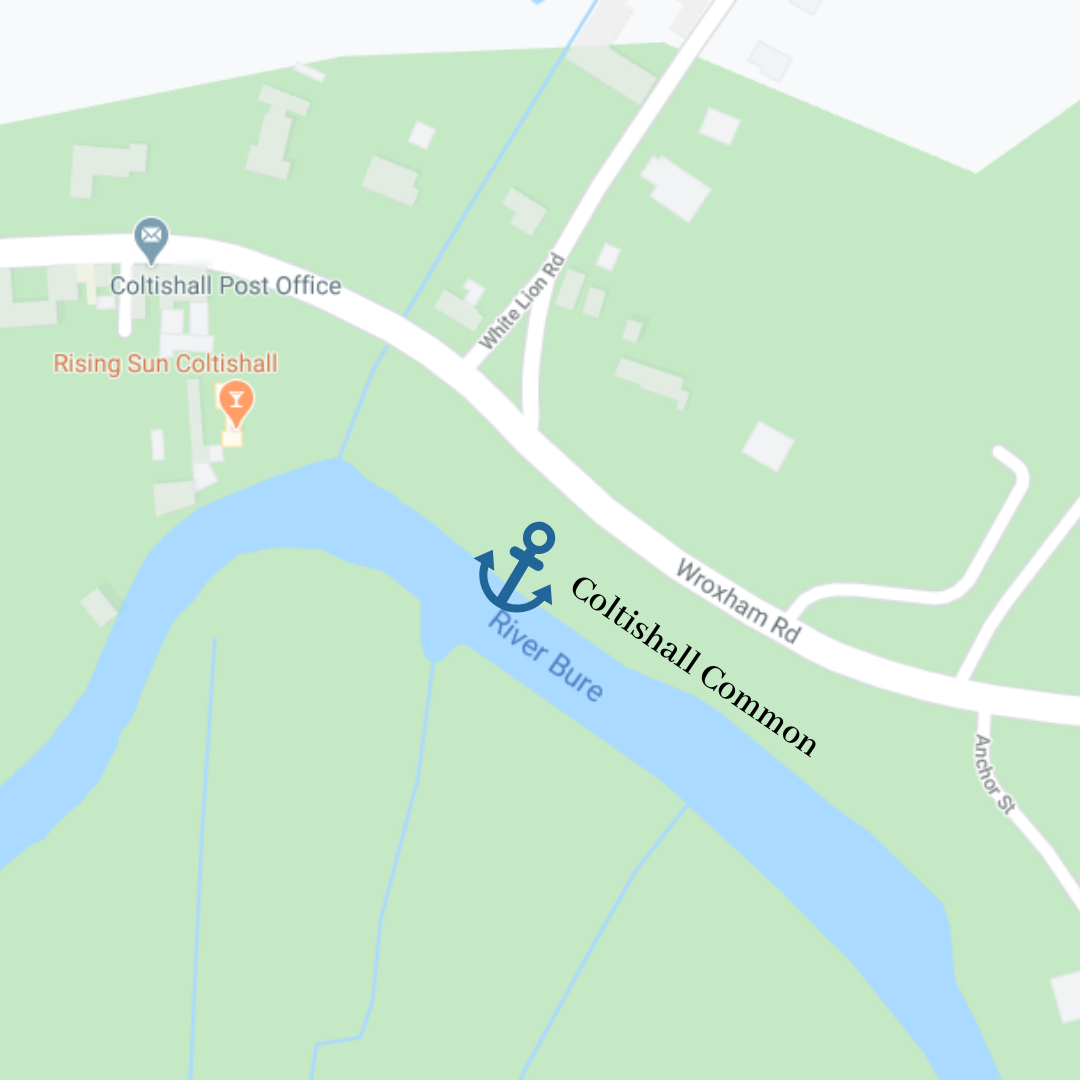 There are 24hr free moorings (side on) at Coltishall Common, where there are two pubs. The Rising Sun and the Kings Head are right on the river, along with a small post office/convenience store. The Red Lion and Recruiting Sergeant are also situated within 15 minutes walk.
Alternatively, you could follow the river to its end at Coltishall Lock. There is space for informal moorings via rhond anchor here. Take a short walk across the green and you will find yourself at the Recruiting Sergeant. Note: Not recommended for 46ft vessels such as Ultima.
For a little more indulgence turn left at the church and head towards the Norfolk Mead Hotel. Their fine-dining menu comprises locally sourced ingredients. They offer afternoon tea as well, and have a variety of spa treatments available. The Mead also has its own private moorings for patrons.
If you go a bit further, the village centre boasts a convenience store, takeaways, cafe, pharmacy, and butcher.
Cruising to Coltishall is dependent on going under Wroxham Bridge, so be sure that your boat will fit. If the tide is suitable ask us at the yard to pilot you under. But remember, Coltishall is the end of the line, so you also need to get back again! Check the tide timetable provided in your boat manual to plan heading back in the morning.
If the tide is high you may want to travel by car instead – Coltishall is only 5 minutes from the yard by car. Or if you fancy a (long) scenic stroll, you can walk to Coltishall alongside the Bure Valley Railway line.
Belaugh – 1 hour
If your boat fits under Wroxham Bridge you'll pass through this small village. There are no facilities or supplies in Belaugh, but your first night aboard would be a peaceful one.
You'll come across Belaugh approximately 2 miles before Coltishall. There are a couple of free 24hr moorings available at the staithe and one at St. Peter's church.
Salhouse – 35 mins
Salhouse is a good choice to spend not just your first night but the following day. Why not moor up ready to hire canoes in the morning, or take the ferry to Hoveton Great Broad Nature Reserve? Also great for dog-walking, there are large grassy areas and a picturesque boardwalk.
There are moorings along a grassy bank in the Eastern part of Salhouse Broad, near the "beach". These moorings are stern on, and fresh water and rubbish facilities are available. There is also a smaller mooring in the Western Broad, but there is no fresh water here.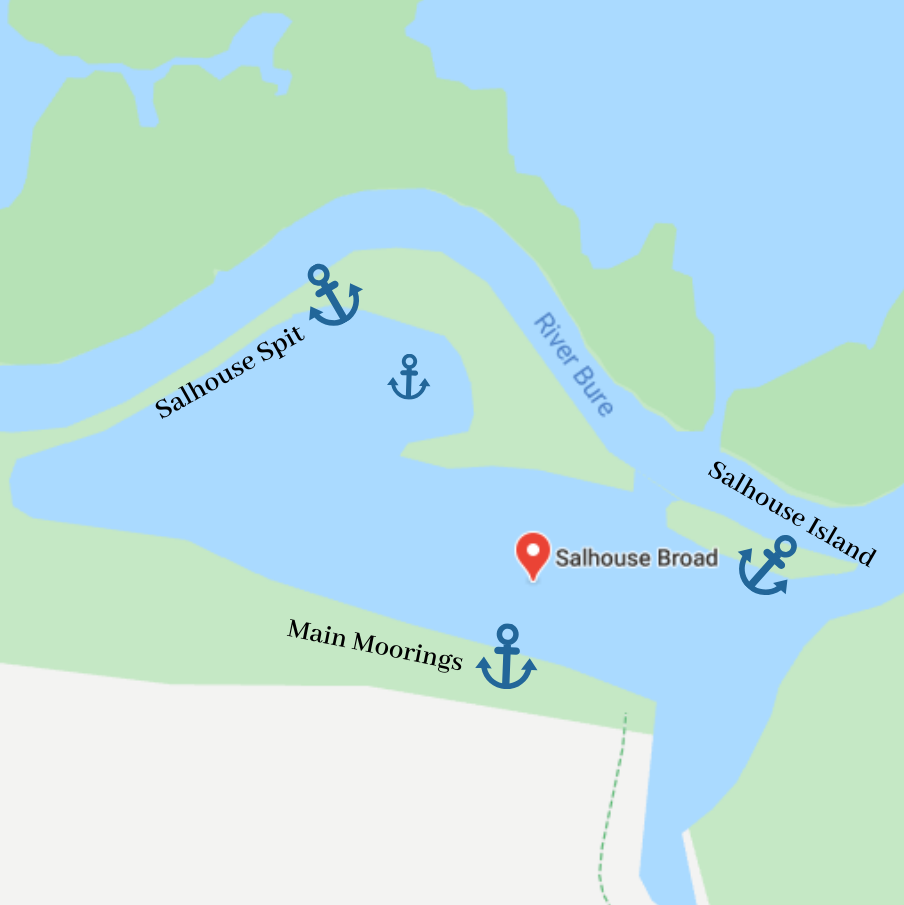 You won't find much in the way of supplies in Salhouse, apart from in high season where a kiosk sells the basics.
There is a pub 20-30 mins walk from the moorings. Turn left out of the car park for the Fur & Feathers towards Woodbastwick. You can also book a tour around the Woodforde's brewery on their website. (Be sure to pack a torch for evening walks back along the country lanes!)
If you're dining aboard, you can also moor side on along Salhouse Island and the Spit where there is no land access.
The above moorings in Salhouse all come at a charge: Overnight is £10, and shorter stays are available at varying fees.
Another (free!) option on a calm night would be to moor by mudweight in the bay surrounded by the Spit.
Hoveton Little Broad
Before you reach Horning you will come across Hoveton Little Broad. Generally it is open for a week at Easter, and is then from Spring Bank Holiday until the end of October. There are no official moorings here, but it is a lovely place to mudweight overnight.
Horning – 1¼ hour
Horning is one of the most popular spots in the Northern Broads, and for good reason! There are plenty of pubs, shops and eateries; everything you could need for your first night aboard. BeWILDerwood is also a 20 minute walk (or a short taxi ride!) away if you were looking for something to occupy the kids the next day.
The first pub on the corner in the tudor building is the Swan Inn. Limited private moorings (side on) here are free when redeemed against a meal. There are also a few free 24 hour moorings the other side of the pub at Horning Staithe.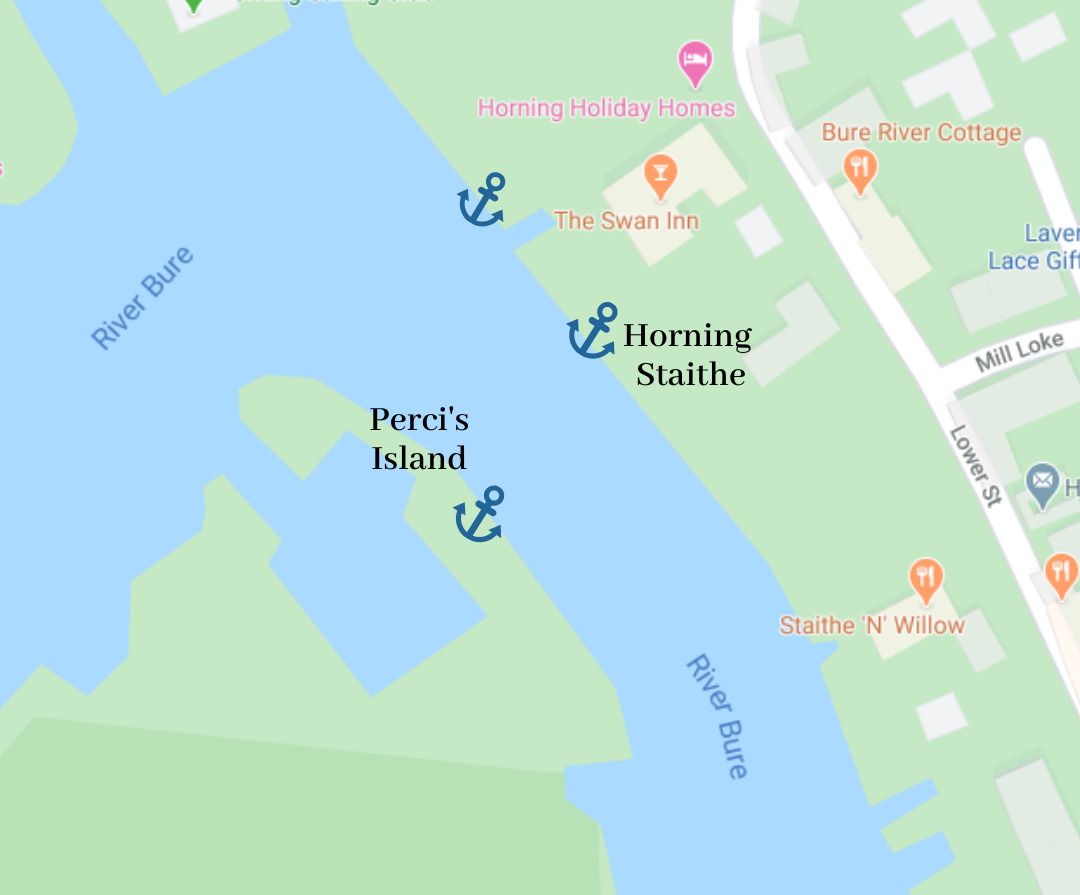 If you don't need to get ashore (or hired a dinghy, and as such can paddle across) you can moor opposite on Perci's Island. These are side on moorings and come at a charge.
Behind the Swan, you'll also find the Bure River Cottage Restaurant. If you're a lover of seafood this could be the one for you; it
is considered
one of the best fish restaurants in Norfolk.
Another 5 minute's cruise and you'll reach the New Inn. This is the only pub where you can pre-book a (stern on) mooring with your meal. We would definitely recommend you do this in advance at peak times.
A few minute's cruise brings you to the Ferry Inn, where there are side on moorings. There may be a charge for these in peak season. You may also be able to moor in Ferry Marina for 24 hours, but we recommend you call ahead to check they have space.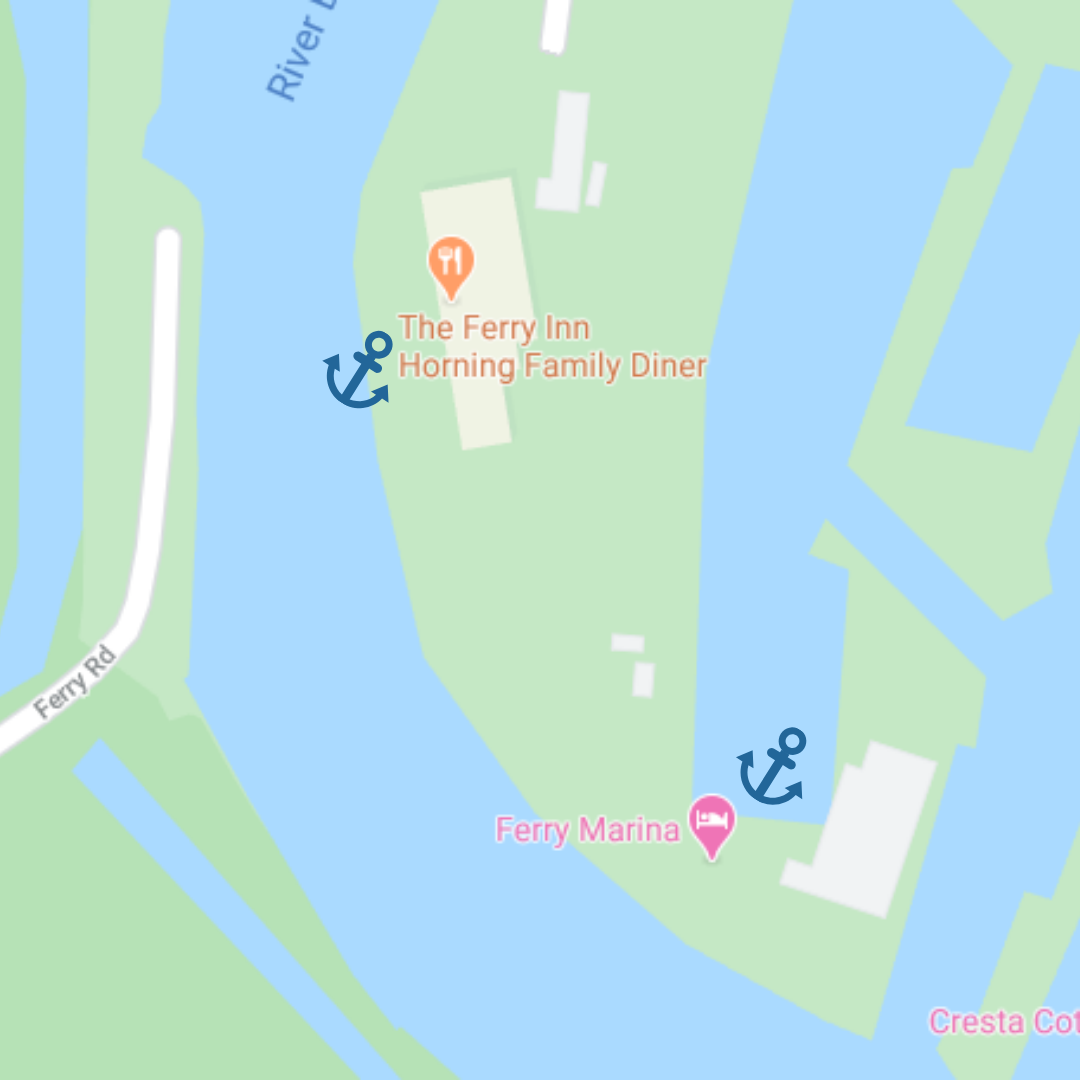 At the far end of Horning you will find St. Benedict's church. Free moorings are available here, with the village centre a 20 minute walk away.
Horning is ideal for both first nights and the night before handing the boat back. As such it is usually very busy, especially in peak season, so please be aware that mooring spots fill up early.
Cockshoot Broad

Cockshoot Broad is behind Ranworth Broad on your way out of Horning. 24hr Broads Authority side on moorings are available here.
There is a beautiful boardwalk with several bird hides along the way. In the summer if you continue along the route you can take the ferry across the Bure to the Ferry Inn in Horning.
There are no facilities at Cockshoot Broad, but 30 mins walk will bring you to Ranworth where there is a pub and shop.
Ranworth – 1½ hour
Ranworth is a good choice for your first night aboard. As well as a pub and local shop, there is the National Wildlife Trust and a beautiful church. Why not take a stroll along the boardwalk in the morning to the Broads Wildlife Centre? Or climb the tower in St. Helen's church (during peak season) and view the Broads from above.
Free stern on 24hr moorings are available at the Staithe. The Malsters pub and Granary Store/coffee shop are a stone's throw away. There are also side on moorings available on Ranworth Island at a charge.
Wroxham
If you're not in a hurry to rush off, why not spend the night moored in the Hoveton/Wroxham area? Try your hand at mooring before you head off into the wider Broads. Whether you can get under Wroxham Bridge or not there are plenty of mooring options.
Other side of the bridge:
There are several free 24hr moorings provided by the Broads Authority on the other side. Immediately after the bridge you will come across stern on moorings in Hoveton St. John. A few minute's cruise will bring you to Hoveton Viaduct where side on moorings are available.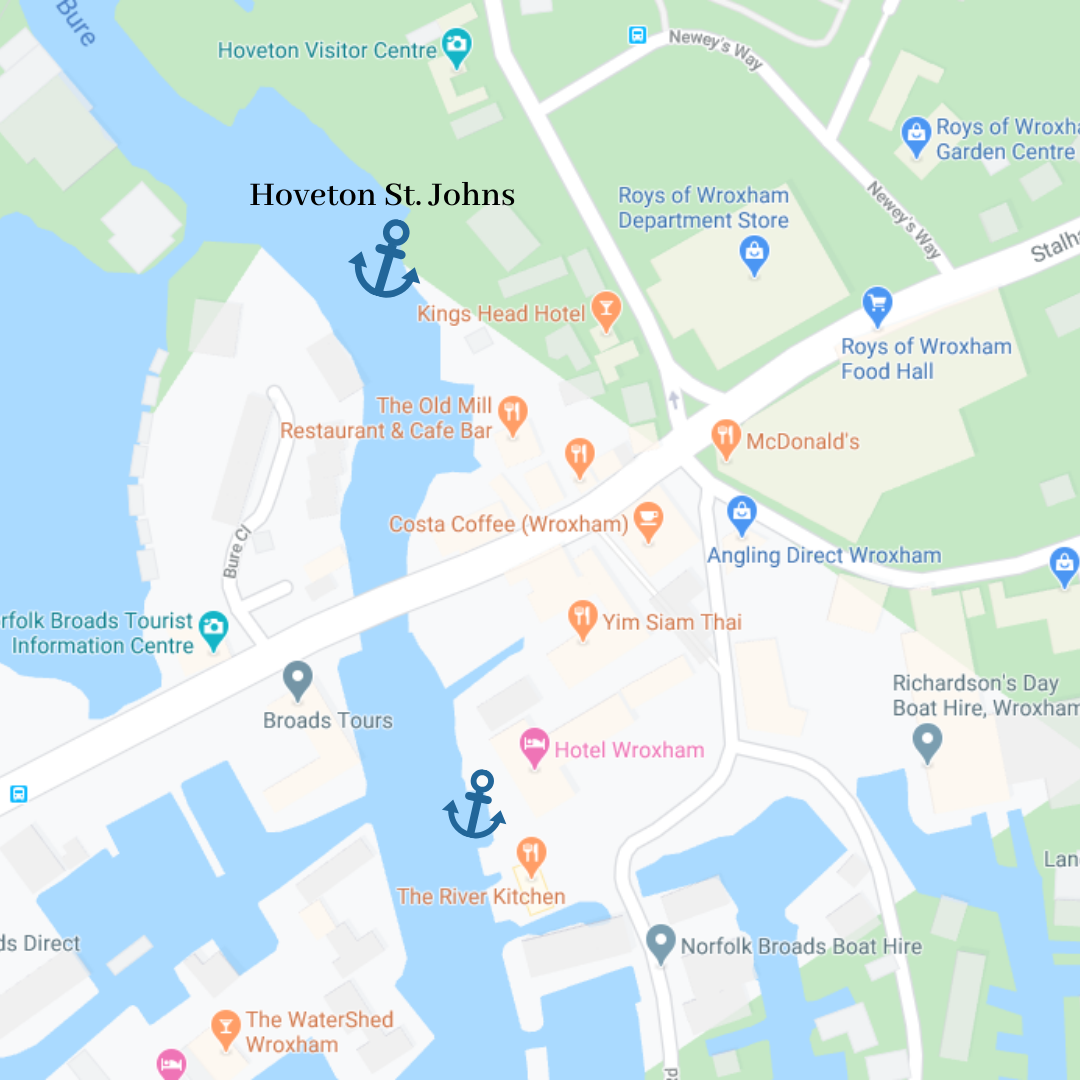 Hotel Wroxham provides a few moorings. These come at a charge, but you can call ahead and reserve a spot, which is handy. They also have a very popular waterside restaurant that you might like to visit.
As you head up the river you'll soon find yourself at Wroxham Broad. There are a few free 24hr moorings on Wroxham Island, which straddles the Broad and the river Bure. Or you could head into the Broad itself.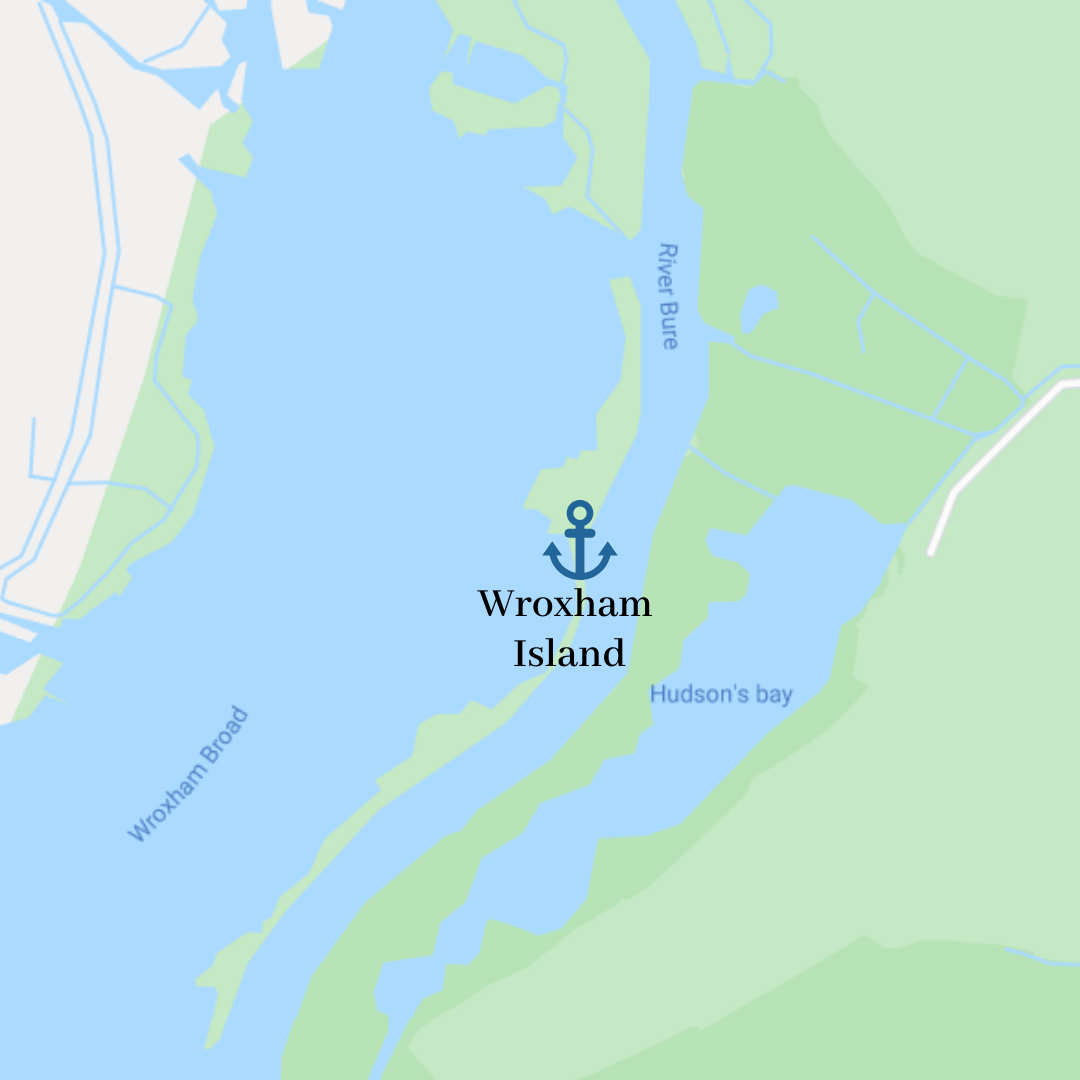 This is a private Broad owned by the Norfolk Broads Yacht Club. You can mudweight here at a fee, providing you steer clear of the buoys and markers.
Stay in the Yard
Last, but we hope not least, you could spend your first night aboard moored up in our yard.
We can show you around your boat and give you your river trial and then pop you back in the basin. We can either moor you up somewhere ready to head off early, or find you somewhere more quiet in case you wanted a lie in.
Roy's supermarket is right around the corner, ideal to shop for supplies. And if you don't fancy cooking after your busy day, there are takeaways, restaurants and a pub in Wroxham.
On a turnover day work will resume at 8am, so it might be an idea to set sail early and get a leg up on the popular mooring spots.
This should give you some ideas how to spend the first night of your boating holiday. If you're visiting the Norfolk Broads in high season you may not always get the mooring you have your heart set on. So be sure to stock up on supplies before you head off in case you can't get ashore, and always have a Plan B.
Visit this link for an interactive map that displays further moorings and more. https://www.barnesbrinkcraft.co.uk/maps-guides/