Maps & Guides
Norfolk Broads - The Broads National Park
The Broads National Park is one of Britain's major tourist destinations and also Britain's largest protected wetland with 125 miles of water and no locks to stand in your way. The Broads are a favourite with first time boaters as they offer the perfect combination of easy navigation thriving wildlife, fishing, birdwatching, landmark sites, shopping and picture perfect pubs along the riverbank.
Use our Interactive Google Map/Holiday Planner to help make the most out of your Norfolk Broads holiday.
Thank you to our customers who have submitted photographs to our
Online Album
, many of which we have been able to link to our new Interactive Map. If you have any photographs you would like to add,
please email them to us.
The NorfolkBroads App.
Use this fantastic app to plan your holiday or trip to the Norfolk Broads. With local information on where to stay, what to do and places to eat - the interactive map guides you to the best attractions all over the Norfolk and Suffolk Broads.
This app is designed for both iPhone and iPad
£0.69
A map of The Broads National Park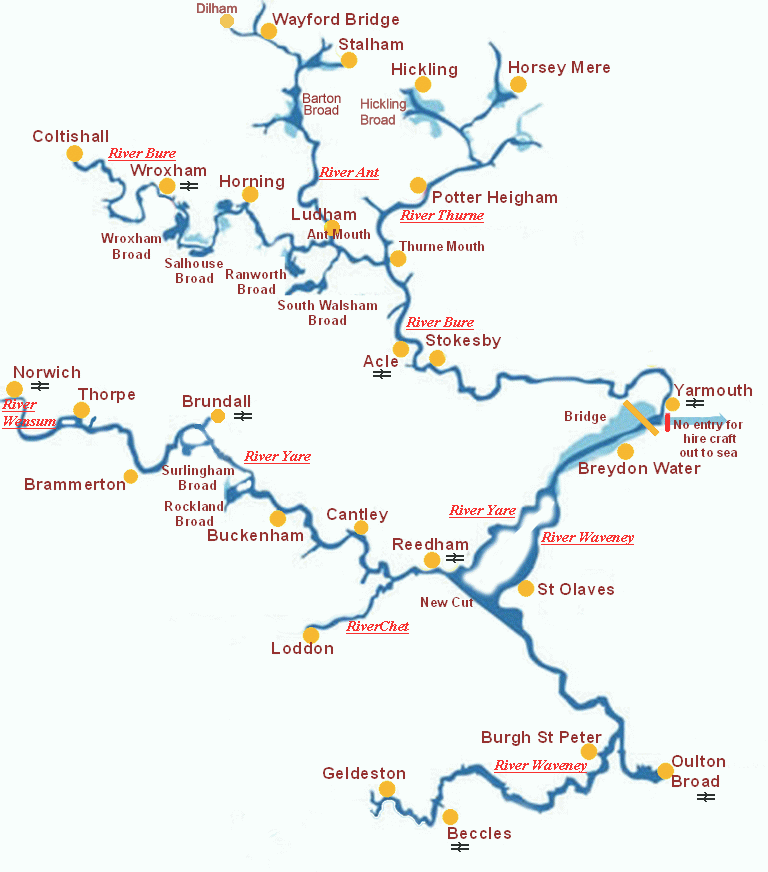 If you require more information or general boating tips for 1st timers including the navigation of Breydon Water, please visit 'My Norfolk Broads Boating'. Everything you need in one place with printable PDF charts containing river distances, maps, bridge heights, tidal rise & fall, moorings and much more.
Three rivers, the Bure, the Waveney and the Yare, together with many tributaries and over forty wider expanses of water known as the Broads, flow through The Broads National Park. The Broads range in size from tiny lakes to the largest expanse of water, Hickling Broad.
The beauty of the Norfolk Broads is best appreciated from the water and many different types of craft can be hired for day or longer trips. The Broads attract thousands of visitors each year, to sail, canoe or simply to enjoy time on the waterways in a peaceful atmosphere. There are however many other activities to enjoy, from walking the 185 miles / 300 km of footpaths in The Broads National Park, cycling through the gentle countryside, or fishing for Bream, Perch, Pike or Eels, to name but a few.
Many of the picturesque villages have a staithe where boats can be moored, to allow exploration inland. Visitors can see historic buildings, ancient churches, old mills, water-pumps and museums all with a story to tell about The Norfolk Broads.
3 Day Guide

7 Day Guide



Download your free APPLE

Pocket Map for the Norfolk Broads

Download your free ANDROID

Pocket Map

for the Norfolk Broads


Please use the QR Codes above to download your free Norfolk Broads 'navigation map app'. This app provides visitors with a tourist information map of the Broads. The map shows moorings, shops, pubs, tourist attractions and many other features - some of which have hotspots that you can tap for more information, such as opening times and prices. Maps of both the Northern & Southern rivers are included. Please note the whole app does not need an internet connection to work.

Videos



Simon Calder - Enjoy the Broads



Nicholas Crane welcomes you to
The Broads


Better Boating Guide