Where to Eat, Drink and Shop on the Norfolk Broads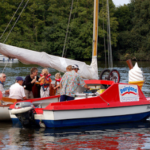 With all the upset and social distancing we've had to get used to you might worry that staples will be in short supply this season. The new normal has tested a few, but businesses on the Norfolk and Suffolk broads have come up trumps.
We've listed the Pubs, Shops and Cafes on the Norfolk Broads by towns and villages on each river so you can easily see what's available at your next stop.  Each entry has a link to a website or a telephone number so you are able to book ahead, check opening times and facilities.
Things are changing rapidly as we get ready to open up, and we will update this blog regularly as we get more information
If you know somewhere we've missed please contact sara@barnesbrinkcraft.com with details
River Bure inc Coltishall, Wroxham, Salhouse, Horning, Woodbastwick, Ranworth, Thurn, Upton, Acle, Stokesby and Gt Yarmouth
River Thurne inc Thurne, Womack Staithe Potter Heigham, Martham, Hickling, West Summerton
River Ant  inc Ludham, Neatishead, Barton Turf, Sutton, Stalham, Wayford Bridge & Dilham
River Yare inc Reedham, Cantley, Rockland, Coldham, Brundall, Surlingham, Bramerton, Thorpe and Norwich
River Waveney inc St Olaves, Somerleyton, Burgh St Peter, Oulton Broad, Beccles & Geldeston
River Chet inc Loddon & Chedgrave
Where to eat, drink and shop on the River Bure, Norfolk Broads
W
Coltishall
Excellent Pub Offering indoor and outdoor seating
We recommend their Dover sole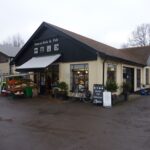 Farm to Fork and Fish deli is just across the road
This Deli continues to offer a great selection of local meat, fish, bread, veg ice-cream………
The Rising Sun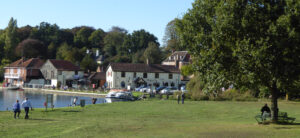 Pub with outdoor bar (well horsebox) next to moorings
The Kings Head is offering Fantastic Food  …And Beer…. phone 01603 737426 to book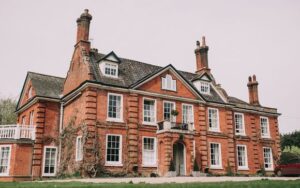 The Norfolk Mead Hotel offers a scrumptious afternoon tea & yummy lunch. Set in a beautiful Georgian country house and gardens.  They also have an excellent spa
Ali Spice Indian Takeaway
A good local takeaway offering deliveries
Londis Stores 
Take a 5 min stroll from the moorings, and you will find this convenience store – and it's open till 10 pm
if "A Piece of Cake" is what you fancy – we strongly suggest a short walk to this cafe in the river rooms.
Want a decent steak or some local sausages to sizzle on your BBQ?   Add Hewitt and Grant butchers to your destination list.    You will find them opposite Coltishall Pharmacy
Hoveton and Wroxham
Roys – Food Hall & Department Store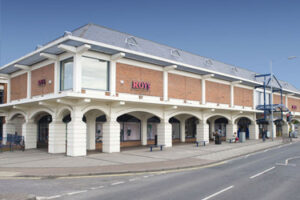 A medium-sized supermarket stocking the COOP brand within an easy walk of our boatyard. Stocking everything you need in the way of food and drink.
Their department store (opposite) is also open again. The ideal place to pick up a replacement hat, suncream, glasses …new T shirt,  kitchen sink.  It also has a pharmacy
If you have kids, you'll struggle to get them past Roys Toys  (opposite McDonald's!)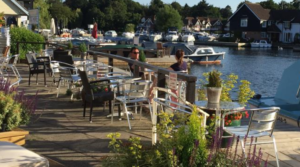 The Wroxham or Hotel Wroxham is an excellent eatery with a fine view of the bridge from their riverside garden.   Highly reccomended
Ken's traditional fish and chips  – continue to offer their best British takeaway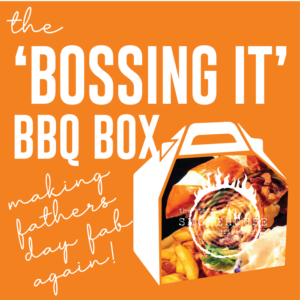 If meat is your thing the Station Smokehouse is the place to go.   their "Station Libation Lager"  is excellent
Bookings recommended 
The Kings Head enables you to book your spot online using the Green King App 
Liberty Restaurant is now open with a lovely tent by the river.  Book to avoid disappointment  01603 782337
The Old Mill Cafe Bar  – for a takeaway afternoon tea or cheeky breakfast
Kebab Hut, Chinese and other fish and chips all available in the usual locations
Costa Coffee and McDonalds are open for takeaways
New for 2021
The Indian Spoon  We can highly recommend … expect a bit of a delay on deliveries whilst they get their feet under the table. You also have an option to eat in
How about trying a new.  The poor people opened just before lockdown, so not many know of them. The Leopard Boutique can be found at 3 Church Rd, Hoveton
Salhouse  (well Woodbastwick)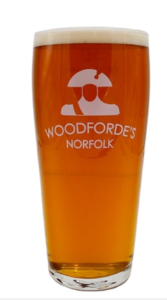 The Fur and Feather
The beer is good.  This is the tap house for Woodfords Brewery (Tour Available)
Drive or take a 20-minute pootle up the road from the moorings at Salhouse or Horning
The Hungry Otter serves good takeaway coffee and snacks right by the main moorings
Horning 
The Galley Horning  – Fantastic Deli, offering perfect picnic fayre,  ( plus a lovely little gift shop).  Now offering takeaways. Well worth a look, especially their essentials hamper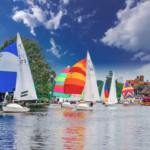 The New Inn has opened its restyled garden.  Ring 01603 631101  or visit their Facebook site.   I can't quite decide which cocktail I want to try!  You can also book a mooring here.  Which is useful to know as its the only place you can do that in Horning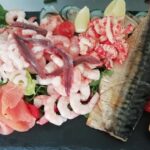 The locals know that The Staithe n Willow are offering excellent Cromer Crab.
If you love top-end seafood we can highly recommend the Bure River Cottage.  you will almost always need to book a few weeks in advance especially for weekend slots. but my goodness it's worth it.  The baked Cromer crab with chilli and ginger is one of our favourites
Golden City Chinese Takeaway  – Lower St Horning is still as popular as ever  Tel 01692 630091
The post office on Lower Street, has its usual eclectic selection of useful stuff
The Clubhouse cafe is open for breakfast, light lunches and evening meals
The Swan is open for business – book your garden table and watch the world go by.
The Ferry Inn is under new management this season.  They have a large capacity indoor and out, so there is no need to book in advance.  Moorings are on a first come first served basis for customers only.
Looking for a little present  – how about the Lavender and  Lace gift shop just next to the public staithe.  They also offer ice-creams!
Ranworth
The Maltsters is open again with a Pizza Den, Beer and a new roof for their outdoor seating area.  (and they promise, heating!)
the Granary Tea Rooms are also already open for takeaways and local supplies
South Walsham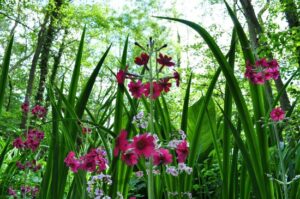 The Fairhaven Water Garden remains open and offer food and drink for people as a takeaway.
Even better, their shop sells Beer to Bananas, and Stamps to Sausages , and some ready-made chefs meals
They have some interesting events planned this year, well worth a look at their website
For a true local experience try the Viking Club at South Walsham village hall on a Friday or Saturday night.    The local brew is good and you can order a takeaway.
The Ship is currently closed, but we hope it will open up shortly  – Try mooring at Thurne or Upton for pub food
Where To Eat, Drink and Shop on the River Thurne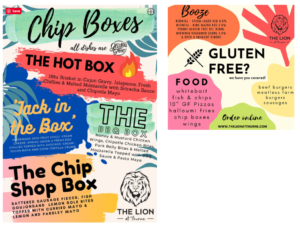 The Thurne Lion is running an excellent Beer and Takeaway service (we've tested it) and
These guys are ready and open for takeaways now.   from the 12th April  you'll be welcomed back into the garden grab a takeaway or book a table
Ramblers  – the gift/tea/ice cream shop should be open for takeaways from Easter
Upton
The White Horse community shop remains open.  Outside eating and takeaways will resume from the 12th  Tel  01493 750696  FB 
Acle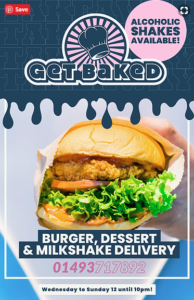 The Kings Head is open from Wed 19th May 
Book a table outside on 0149317892
The Acle Bridge Inn is open from the 12th April for outside dining and drinks.  11 am till dusk.  A New Patio area has been built and the managers ask you book in advance.
Dunes River Cafe and shop are working hard to get the place spruced up for the season.  Tables will be open from the  16th April 
You can book Pedros online from the 14th April or call 01493 750972 and test out their new outdoor editions – inc heating!
Stokesby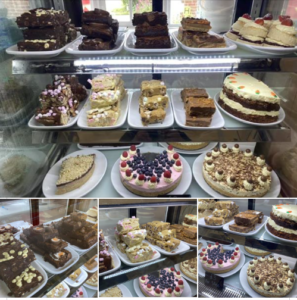 Ahh what a treat The Ferry Inn at Stokesby has reinvented itself … A Pub and A Shop and A Bakery all in one
They offer a fabulous selection of cakes, cheesecakes, brownies some very delicious savoury stuff AND Beer.   What's more  – you can eat in the garden, get a takeaway or delivery all from the 12th April
The breakfast is pretty special too
We can highly recommend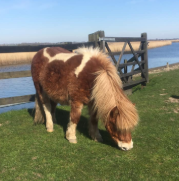 The Stracey Arms Mill Shop and Tea Room are looking to open again very soon.  Their animals are also enjoying the much-missed attention from visitors
Tet; 07473 315441 for updates
Great Yarmouth
Follow this link to their official tourism website to see what on in the way of food and drink
Where to Eat, Drink and Shop on the River Ant, Norfolk Broads
What'sopenontheRiverAnt
Ludham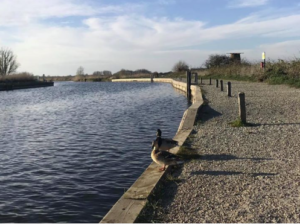 You'll find Wayfarers Cafe right next to Ludham Bridge  and is open for business. Please ring 01692 630238 for info or to place an order
Ludham Bridge Stores will also  be open from 12th April
Ludham Butchers are doing a roaring trade. They are found opposite the church at the heart of the village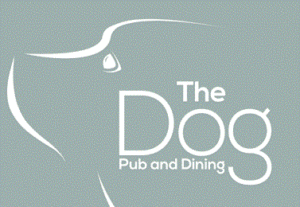 The Dog Inn is open for business from the 12th April  with a large outdoor area.
An easy walk from the moorings at Ludham Bridge and St Benet's Abbey
We can't wait to see what the refurbishments look like
The Kings Arms is right at the heart of the village, just opposite the Church
Its an easy walk from Womack Staith, and a slightly longer one from St Benet's Abbey.  Currently open for takeaways and ready to welcome you back on the 12th April 
Neatishead and Barton Turf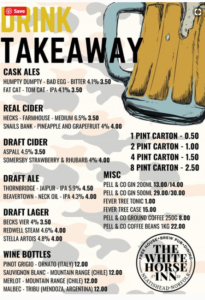 The White Horse is opening from the 12th April.   There is a  brand new garden to eat in plus a takeaway service. Well worth the stroll from both Barton Turf and Neatishead Moorings   Tel 01692 630828 to book a table
You can pick up a really good range of supplies inc a very good cup of coffee at Neatisheads local community shop.  Tel 01692 631459
Sutton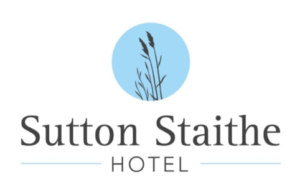 The  Sutton Staithe Hotel is open from 12th April .  Opening hours are 12 till 8pm to start with 
Stalham
The high street is now open for business with these 3 venues
Cafe Charlotte  are opening their doors from the 12th April, they have a lovely back garden with outdoor seating and will continue to offer takeaways
 
The Swan Inn will be opening up its outdoor tables and picnic benches, ready for our return on the 12th April   
The Harnser Pub – currently offering takeaway
Tescos is the nearest store to the staithe
There are also a range of Takeaways inc Fish and Chips and Chinese in the town
Wayford Bridge
If you find yourself here it's well worth taking a short walk to A G Meals & Sons   (inc Vera's Cafe)
The garden centre and farm shop  (open now) and cafe (opening 14th May) offer a great all-round service
#Top Tip  If you fancy fresh fruit you can pick your own here
The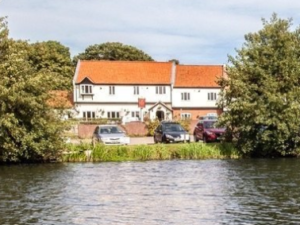 Wayford Bridge Inn is CHECK DETAILS
Dilham 
I am reliably informed that The Cross Keyes are open and offering great service and a posh new tent, please give them a ring to check whats on. Tel 01692 536398
Where to Eat, Drink and Shop on the River Thurn, Norfolk Broads
What'sopenontheRiverThurn
Womack Staithe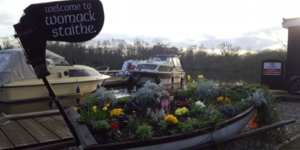 The "Big" Shop is open for business.  Selling their usual range of ice-creams and groceries and takeaway hot drinks.
And you can stock up on fishing tackle too (during the fishing season)
They also have one bookable overnight mooring   Tel 01692 678193 or 07502 453415
Potter Heigham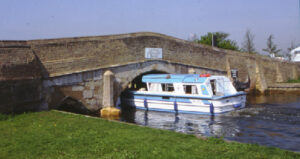 Lathams the discount shop that sells pretty much everything inc fishing supplies and milk is open for business
Falgate Inn are planning on opening their garden soon. We are keen to see the new renovations
Takeaway Breakfast, Coffee or Afternoon Tea anyone?  try Bridgestones.   
They also offer a cracking line in hot baguettes and cakes
And don't forget the Burger Van opposite Lathams or the Fish and Chip shop over the bridge
Rumour has it that Norada Grill and Tavern will be opening shortly … and they were certainly at work on improvements when we poked our nose over the wall at Easter
Martham
Whilst it's a bit of a hike from the moorings, Martham offers 2 co-ops and the usual selection of takeaways inc Fish and Chips. Plus Pizza and Kebabs
The Pizza and Kebab shop will do delivery via just-eat.co.uk
The pubs are not currently open
Hickling
The Pleasure Boat Inn is asking for someone to fix their boiler – but hasn't published an opening date yet …. we think it won't be long  Tel 01692 598870 for an update
Where to Eat, Drink and Shop on the River Yare, Norfolk Broads
What'sopenontheRiverYare
Reedham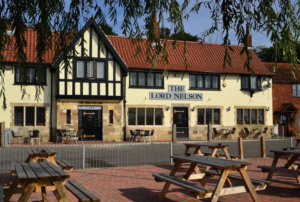 We can highly recommend the local brew,
The village store supplies basics
The Ship at Reedham will be open for drinks and basket food from the 12th April.  They have some live music as well 
The Reedham Ferry Inn are welcoming customers from the 17th May, booking essential
Cantley
The Reedcutters Pub is open for takeaways only  (pick up between 12 and 2 and 6 and 8 pm)  until the 17th May when it will open up fully
Coldham
Coldham Hall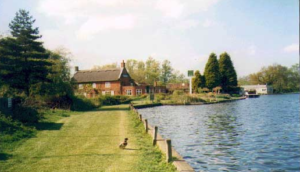 Loads of moorings, excellent food, a good choice for an overnight mooring.  Outdoor eating from the 12th April   – and a takeaway for the evening when its too chilly
Surlingham
The Surlingham ferry is open again  from 12th April  – with breakfast starting at 9 am – and an evening meal till 8.30 pm
Bramerton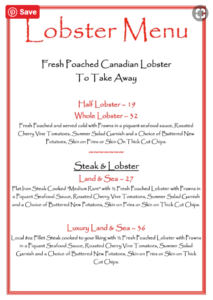 I rather like the look of the Lobster on the  menu from The Waters Edge at Bramerton  – and it's a beautiful bit of the River Yare too 
Their standard take away menu looks pretty scrummy and you will be able to get a table outside from the 12th April 
You can't book the table, but you can book a mooring Tel 01508 538005
Brundall
East Hills Cafe Bistro is now open with a reduced service, offering takeaways
Thorpe & Norwich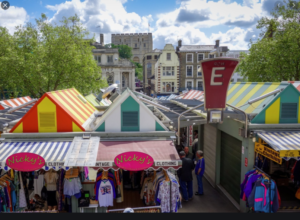 You've reached an area where you can guarantee that your mobile signal will work.    The options are almost endless.   We suggest you moor at the yacht station and take a stroll towards the award-winning Norwich Market.
The market offers a huge selection of very good street food from around the world.
Where to Eat, Drink and Shop on the River Chet, Norfolk Broads
W
Loddon and Chedgrave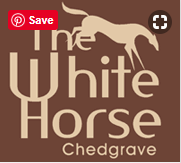 The White Horse at Chedgrave is open for business from the 12th April.    Pie Night looks pretty good to me, and it's available as a takeaway too.
The Kings Head is opening for drinks outside from the 12th April, with food available from their takeaway menu  The garden is looking very smart
The Swan, Loddon is opening from the 12th April, with reduced food service times to start with.  The food looks drool worthy though
New for 2020  The Terrace,  restaurant- bistro is opening up on the 12th April to offer breakfast,  lunch and afternoon tea.  Their salads look super…and I can't wait to try their supper menu later this summer
Where to Eat, Drink and Shop on the River Waveny, Norfolk Broads
What'sopenontheRiverWaveny
St Olaves
The Bell Inn will be up and running for the 12th April With a new marquee in the garden and a new online booking system.  Great place to moor.  
Burgh St Peter
The Waveny Inn – is open from the 12th April and you can moor outside  – you might want to  book your table and mooring at the same time
Oulton Broad
The Commodore is open for business from the 12th April.   closing times are weather dependant, and outside tables are not available to book.  The Wherry Hotel will also be open
There are a variety of other places to eat nearby the Yacht Station
Beccles
Oakfired at the Royal Oak   – are offering amazing pizzas (take away to start with).  These are the true deal, highly recommended. Their Tia Maria looks pretty special too
You can pick up supplies from Tescos in the middle of the town.   We would highly recommend a wander around to find your own favourite store, pub, takeaway or restaurant.  There are lots to choose from
Geldeston 

The Locks Inn is reopening as a community pub on the 13th May 
From all we have seen and heard, it's well worth a walk from Beccles if your boat is too tall to get under the bridge at Beccles
---
Don't forget to save this page to your favourites as we will update it regularly as we find out about more pubs, restaurants and cafe's opening for business
If you would like us to feature your business please drop details inc a picture, link to website or Facebook page and details of how customers can access your products to sara@barnesbrinkcraft.com
If all of this encourages you to take a holiday in the Broads National Park please have a look at our boats and houses on the Barnes Brinkcraft  website