Paddleboard Hire on the Norfolk Broads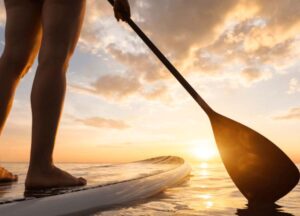 We've seen loads more people hop on a paddleboard for a bit of fun and exercise recently. Paddleboard hire on the Norfolk Broads has taken off, It's great fun, although it takes a little practice to glide as effortlessly as some of those Instagrammers!
A quick poll showed us that quite a few of our customers were interested in hiring one, so here it is;
Price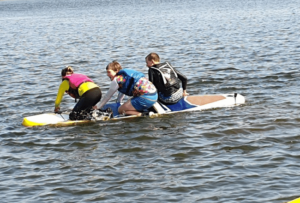 You can hire a paddleboard from us,  They cost £90  for a weeks hire or £65  for a short break when you hire one of our boats or holiday homes.  we also require a £250 refundable deposit.
We also offer rowing and sailing dinghies
Booking
Once you have reserved your trip on the Norfolk Broads, give us a ring on 01603 782625 and we'll add the paddleboard hire to your booking (we haven't got the facility to book online yet …complicated)
Safety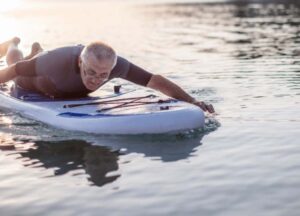 Each paddleboard comes with a buoyancy aid, paddle and ankle strap plus instructions on how to use the paddleboard safely.  The paddle boards we have on hire are designed for beginners/intermediates
Before you step on board, it's worth thinking about the following
How will you get back on dry land / your boat?

Lots of boats and quay headings are too high to climb back onto from the water  – so plan your exit route before you start
Salhouse Broad is an excellent place to practice because it has a shelving beach  – making it easy to walk out of the water

What way is the wind blowing  – and is it blowing strongly?

If the wind's up it may blow you across the water  – making it difficult for you to get to where you want to get to
If you get caught out try lying flat on the board and use your hands and feet to paddle back to where you need to get to

Tidal rivers

The strength of the tide varies across the Norfolk and Suffolk Broads and if you are going to hire a paddleboard we would recommend you keep to the Northern Rivers before you get to Acle
You can tell which way the tide is going, just drop a leaf in the river and watch which way it floats (we would suggest a breadcrumb… but they would be eaten by the ducks!)

Other Boats

We'd recommend finding the quieter spots to paddleboard for the obvious reasons
Instruction Video
This video really takes you through the basics, but we would recommend wearing a buoyancy aid in UK waters …they are a little colder!
Top places to Paddleboard on the Norfolk Broads
Salhouse Broad is our favourite because it has an excellent "beach" making it a really easy place to get in and out of the water. It's also pretty sheltered, but watch out for boats coming into moor up
Coltishall is also a pretty excellent choice, it's a quiet stretch of the river because lots of boats can't get under the bridge at Wroxham and the wildlife is exceptional.  If you'd like to see a kingfisher it's most likely to happen here
You could carry your paddleboard across the road at the weir and paddle the river bure between Coltishall to Buxton.  Friends could walk on the footpath by the side of the river to accompany you
For those of you who are more confident getting on and off boards and back onto boats  – Hickling Broad and Barton Broad make excellent paddling points.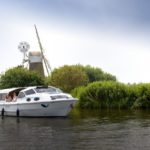 Book a boating holiday with Barnes Brinkcraft 
2 Berth to 12 Berth boats
Full onboard facilities
Comprehensive instructions provided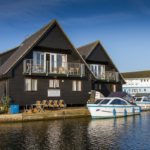 Book a holiday home on the river with Barnes Brinkcraft
Fish from your holiday home
Day boat provided (outside school holidays)
Upside down layout for excellent views over the water
Fancy trying Paddleboarding, but you'd rather have lessons  – we can highly recommend Go Paddle