As we are writing this newsletter we are lucky enough to have wall to wall
blue sky and sunshine – and what's more it is set to continue over the
weekend and well into next week!
With a weather forecast like this, we wanted to offer you something special
to tempt you out onto the water, so we have taken a whopping 25% OFF
our brochure prices for Cruiser hire on all short breaks and weekly holidays
starting between now and the 11th of June.

To take advanted of these discounted rates and check availability,
call our booking office on 01603 782625 or email
bookings@barnesbrinkcraft.co.uk
Customer Loyalty Scheme
Last month we were pleased to announce our new
Customer Loyalty Scheme.  All customers who have previously
holidayed with us in the past 4 years, & who rebook with us direct,
will receive a delicious local food Hamper supplied by Farm to Fork.
This will be delivered direct to the boatyard prior to your arrival
for the start of your holiday.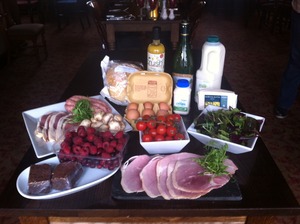 Example – contents may vary
There are two tiers to the scheme:
Thank You Hamper – For hire terms up to £600
Hamper includes:- Small loaf, butter, free range eggs, bacon, ham,
seasonal fruit and chocolate brownies.
Welcome Back Hamper – For Hire Terms from £601
Hamper includes:- Large loaf, butter, free range eggs, bacon,
chipolata sausages, ham, mushrooms, vine tomatoes, salad leaves,
salad dressing, seasonal fruit, local apple juice and chocolate
brownies.
If you have any queries regarding the new Loyalty Scheme, please
contact Mags on 01603 782625 who will be happy to help.
Day Boat & Canoe Hire
Our day boats are now very busy at weekends so if you are planning
a special day out with friends or family, please call ahead and
pre-book to avoid disappointment. 01603 782625 – option 2.
Don't forget you can enjoy a quiet 2 hour early morning cruise from
8.30am-10.30am or an early evening cruise from 6pm-8pm for just
£20.   Local deli 'Bouchon' can put together a delicious picnic for
you and even provide the wine if you like – just give them a call
on 01603 784990.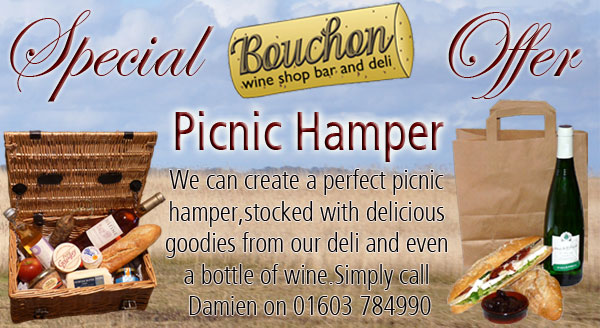 Bosuns Locker
Have you taken a look inside our 'Bosuns Locker'?  With the help of
local suppliers we have put together some delicious treats which can
be delivered free of charge to the boatyard prior to your arrival.
These are hampers full of locally sourced foods, carefully selected
wines and celebration items including mouth watering Sponge cakes
from our friends at 'Sponge'.
Barnes Brinkcraft supporting MNDA
On the 28th August, Daniels wife Sara will be cycling 300 miles in 4
days (London – Brussels) to raise money for MNDA
(Motor Neurone Disease Association).
This is a very worthy cause and we are pleased to be supporting the
charity.  If you are able to help by sponsoring Sara, please visit her
fundraising page where you can make an online donation.
Ironman Triathlon 'Joe Skipper'
Local man Joe Skipper competes in Ironman Triathlons at professional
level- take a look at his blog for more information.
Share Your Holiday Photos
We love to see your holiday photographs, if you've had a great time
and would like to share your pictures with us, email them to
kerry@barnesbrinkcraft.com or add them to our Facebook & Twitter
pages.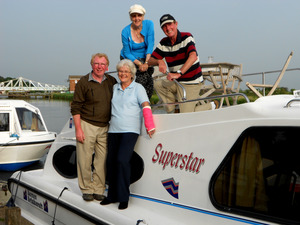 This photograph is from Carl Wilson & his family who holidayed on
'Brinks Superstar' – looks like they had fun (even the lady with the
cast is smiling!)
Thanks for sending this in Carl, there will be a bottle of Bubbly
with your name on it next time you take a holiday with us.