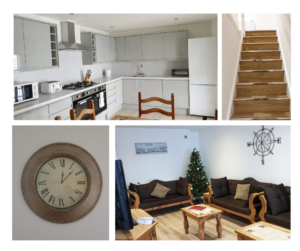 The Sail Loft facelift is almost finished.  The decorators are working their way through the last two houses now.   We are going for a light bright white all the way through each property.  We hope you agree that this makes these holiday homes look very smart.   It also helps reflect the lovely rippling light you see when the sunlight bounces off the water and onto the walls.
The modern grey gloss cabinets beautifully set off by the Corian worktops,  resulting in a very well turned out kitchen.    The Saillofts new oven & hob looks pretty good too
The health and safety guys might even get excited about the stairs.  The new finish is both good looking and has a highly visible trim.
We've kept the lovely landscape pictures and added some finishing touches using appropriate nautical themes to bring the rooms together.
Using our ever-present smartphones, We've grabbed a few shots to give you an idea of what each home will look like once the holiday homes have been completed.
If you'd like to book for 2020 click here.  We'll update the content with new pictures of the interior and exterior as soon as we have them
If you know which of the 5 holiday homes you would like please follow the links here  Jib-Sail, Stay-Sail, Main-Sail, Top-Sail and Spinnaker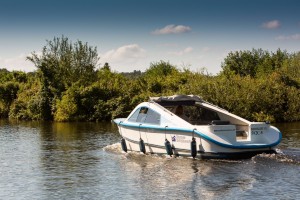 Remember each holiday home comes with a dayboat outside the main school holidays