Personalised Gift Voucher  – Norfolk Broads Holidays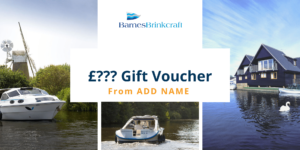 This gift voucher is an ideal gift for those that love the Norfolk Broads. Even better it will fit through the post box or underneath the Christmas tree.
You choose the amount you want to offer (min £50). Let us know who you want to address it to and we'll send it to you (or the recipient) in the post.
The voucher is valid for 2 years from the day of
purchase
. It can
be redeemed
against the hire of a day boat, cruiser or holiday home provided by Barnes Brinkcraft
An excellent and thoughtful gift for those who really love time on or by the river
To have a look at what your gift voucher can be used for, have a look at our boats, day boats or holiday cottages here
To buy a gift voucher, please contact our office
bookings@barnesbrinkcraft.co.uk
We will need:-
the name of the person giving the gift
the person receiving the gift,
The amount (min £50)
The address you want the voucher sent to
Barnes Brinkcraft has been in business offering boating holidays since 1964. We have offered Gift Vouchers as people have requested them. Demand has increased, so we decided to offer a personalised version. Once printed, we laminate the gift voucher.