It seems hard to believe we are coming to the end of another year, with
Christmas just around the corner.  As you can imagine the shops in
Wroxham are full of festive fayre, but as much as we love Christmas &
all the glitter and sparkle, we're looking forward to the new boating
season even more.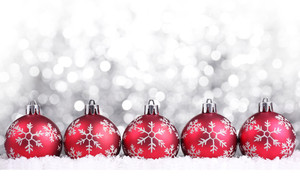 If you are thinking of booking your 2014 holiday during the Christmas
& New Year break, take a look at our 'early booking offers'.  For
bookings made before the end of February we are giving a 5% discount
on brochure prices.  Tel: 01603 782625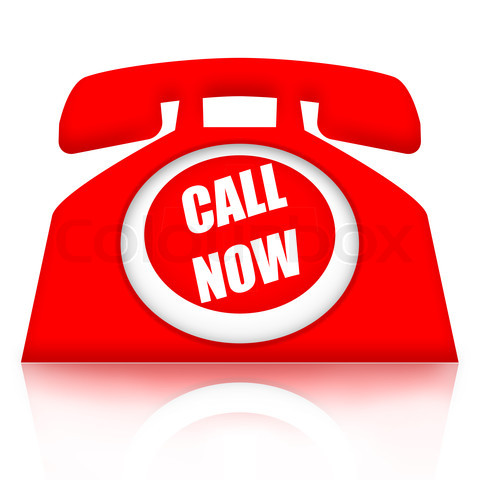 Customer Loyalty Scheme
Don't forget that all customers who have previously holidayed with us in
the past 4 years, and who rebook with us direct, will receive a delicious
local food Hamper supplied by Farm to Fork.  This will be delivered direct
to the boatyard prior to your arrival for the start of your holiday.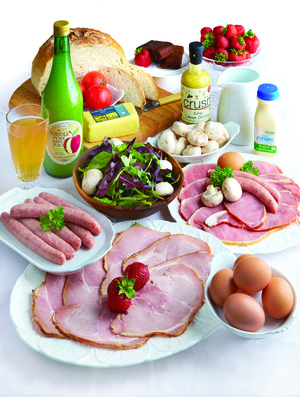 Call our booking office on 01603 782625
Christmas & New Year Office Opening Hours
Saturday 21st December    10am to 2pm
Monday 23rd December    10am – 2pm
Tuesday 24th to Friday 27th December    CLOSED
Saturday 28th December    10am – 2pm
Monday 30th December    10am – 2pm
Tuesday 31st December   CLOSED
Wednesday 1st January    CLOSED
Thursday 2nd January    8am – 5pm
Please note our normal working hours during the Winter Season
Monday to Friday – 8am to 5pm
Saturday – 9am to 4pm
Sunday – Closed
All e-mails will be answered on the next working day (as above)
January Self Catering Offer
Take advantage of a 20% discount on our self catering Lodges &
Apartments in January '14.
Ladies you can hit the sales in Norwich and gentlemen you could enjoy
a spot of quiet fishing or, just relax after the madness of Christmas &
enjoy the beautiful riverside views from your window.
The discount applies to short breaks and weekly bookings between
4th January and 1st February '14.
To book at the discounted rate call 01603 782625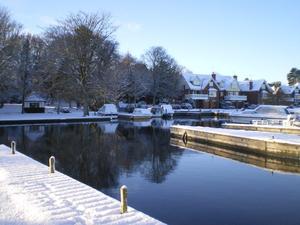 We have wifi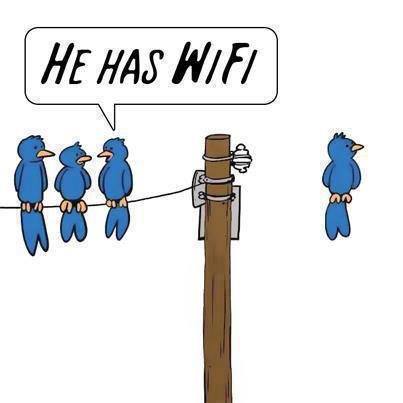 We have free wifi available in our self catering Apartments & Lodges,
and it's available on the yard too if you are holidaying on a boat.  Just
ask at Reception for the code.
Remember to 'check in' on Facebook or #barnesbrinkcraft on Twitter.
Hen & Stag Parties Welcome!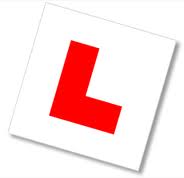 Here at Barnes Brinkcraft we welcome Hen & Stag parties.*  If you are getting married or if you are the person organising the Hen or Stag party, take a look at our ideas of how to get the most out of your Norfolk Broads celebration.
Whether you choose a Cruiser break or one of our Self Catering properties, you can be sure that you will have a celebration to remember for all the right reasons.
* A security deposit is payable
Share Your Holiday Photos
We love to see your holiday photographs, if you've had a great time and
would like to share your pictures with us, email them to
kerry@barnesbrinkcraft.com or add them to our Facebook & Twitter pages.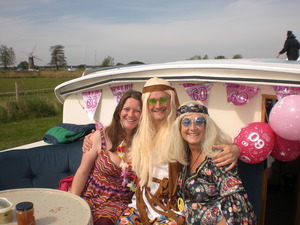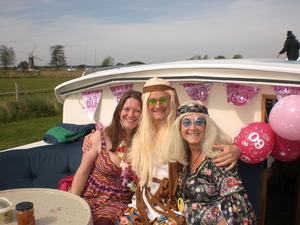 Thank you to Julie Phelps who sent in this photograph of her 60th
birthday celebrations.  Looks like you all had a great time celebrating
in 60's style.  Next time you take a holiday with us, there will be a bottle
of Bubbly waiting for you to enjoy.