Christmas holidays in the Broads National Park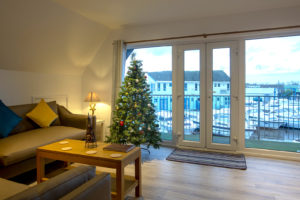 Imagine yourself tucked up warm against the elements, watching Norfolk's wildlife float passed your window.
We can't think of a better way for you to spend the festive season with your friends and family.
Fresh Air in Norfolk over Christmas and New Year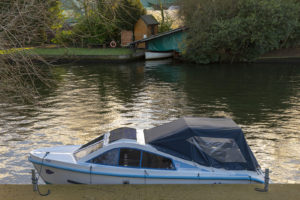 Should you choose to brave the elements, you could have your own day-boat on hand, ready to explore the River Bure.
The dayboat is included free in the cost of the holiday
Whilst using your boat, you might even choose to stop off on route, taking time to warm up, and, possibly sample some local produce.
We recommend a tour around Woodfords Brewery, right next to the Fur and Feather Inn.
Alternatively enjoy the warmth of welcome at the Hotel Wroxham, or travel a little further to the New Inn at Horning 
We think these pubs also offer a good selection of seasonal meals making them worth a try.

If you take a walk around St Benets Abbey.  Don't forget to take your camera.
You can grab your own picture of this most photographed icon of the Norfolk Broads.
There is a great circular walking route for you to use. It can be download to your phone using this app.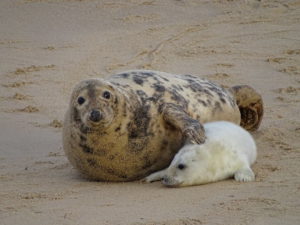 Brave people may choose to take part in the boxing day swim at Cromer.  A slightly less bracing option might involve a brisk walk further down the coast at Horsey.
This is a great time of year to check out the seal colony as it coincides with the breeding season. The seal pups at Horsey are very, very cute.
Available Accommodation from Barnes Brinkcraft
We have 15 individual holiday homes.  The largest sleep 8 people with a mix of twin and double rooms.
Some of the apartments can be linked together (via a door between the properties) which makes it possible to sleep 16 under one roof.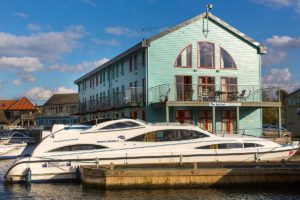 The Daisy Broad lodges were refurbished in November 2018, and we think they look amazing.
The Sail Loft is booked in for refurbishment in November.
We won't have any pictures of the Sail Loft available until just before Christmas, but we are confident that the guys will do a great job.
All our holiday cottages are situated on the waterside, and Barnes Brinkcraft includes a dayboat for free during the Christmas holidays.
Good to Know
The locals will tell you that Roys of Wroxham  (Also known as the worlds largest village store), is a great place to pick up last-minute food and presents.
The great news is that you won't face the usual hoard of shoppers experienced in major shopping areas over the Christmas Holidays
The even better news, it's a 5 to 10-minute walk from our holiday homes.
Contact Us 
For more details please ring 01603 782625 or visit our website