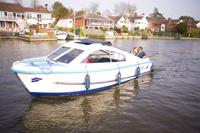 Hire A Day Boat from £10 per hour!
Hire a Dayboat from only £10!
Save £10 on a 2 hour day boat booking, when arriving and taking your boat out at 8.30am, all boats need to be back by 10.30am, or for an early evening cruise, collect your boat at 6pm and return by 8pm. Valid from March-November
For Full details contact a member of our Day Boat Staff on 01603 782625 option 2.
Date Added: February 5th 2011